The kind of project we love, taking large scale pro-inspired brewing equipment and distilling them down for the home and nano brewer. All-In-One, fluted rollers, tool-less gap adjustment, and differential speed rollers are just a few features that set our new mill apart from the competition.
ALL-IN-ONE DESIGN
Featuring a hi-torque DC motor combined with a leveraged gear reduction system that drives a series of billet aluminum pulleys and high inertia rollers make easy work of the toughest wheat and rye malts. — Capable of up to 350 lb/h
DIFFERENTIAL SPEED ROLLERS
Dating back to the early days of craft brewing, feed mills were often repurposed in breweries due to the lack of availability of milling equipment designed specifically for processing malt in brewing applications. Conversely, in a home brew settling, corona mills, and other repurposed mill designs intentioned for processing raw grain in a home kitchen were adopted for their ease and accessibility.
Naturally, If you're feeding livestock or making grits, you typically want to pulverize the grain. However, if you're brewing beer it's preferable to crack the endosperm in several places and then sheer off the husk, keeping it mostly intact. This shearing and crushing action maximizes both efficiency and lautering performance, reducing or eliminating the need for rice hulls or other lautering aids. The two rollers inside the Ss Grain Mill are both driven by the onboard motor, but designed to rotate at different speeds. This key feature is at the heart of our purpose built mill designed for home and pro brewing.
MACHINED FLUTED STAINLESS STEEL ROLLERS
Other mills that are designed to pulvarize grain, often rely on hardened steel knurled rollers to extend their usable life. The shearing action of the Ss Grain Mill places less stress on the roller to effectively process the grain. We settled on the more professional approach of fluting the rollers, which enhances the ability for the two rollers to engage the malt and effectively shear the husk from the endosperm. It was also important to us that this mill be functional in either a home or pro-environment, so we decided to cast the rollers in solid 304 stainless steel, with each roller weighing a robust 7.5 lbs.
Furthermore, the profile of the rollers has been completely rethought. Most small mills rely on a wide processing envelope and a small, 1.5-2" diameter roller. We have emulated the design of large production mills, and increased the diameter of the roller to 4", and narrowed the processing envelope. This design increases the rotating mass, and stores rotational energy, which ultimately helps to smooth abrupt changes in rotational speed. Furthermore, the entrance angle is less aggressive with a larger roller, resulting in additional mechanical advantage.
PRECISION GAP ADJUSTMENT
Eleven points of adjustment ranging from 0.5mm to 2.0mm open up a wide range of malt products. Gap adjustments are tool-less and can be made without any disassembly, or complicated procedures.
| | |
| --- | --- |
| SKU | SSGRMILL-1 |
| Brand | Ss Brewtech |
| Shipping Weight | 25.0000kg |
Be The First To Review This Product!
Help other Newera Brewing users shop smarter by writing reviews for products you have purchased.
Others Also Bought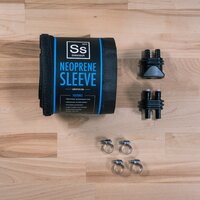 Quick Disconnect Kits for FTSs
From $99.95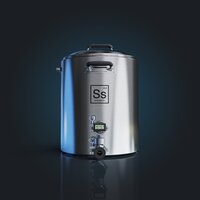 From $799.00
More From This Category