Designed and Engineered alongside our expansive line of Pro Brewhouses, the 3.5 bbl Ss Brewhouse is the most advanced nano brewhouse on the market. Engineering better beer. That's what we do.
Holding true to our core values of bringing pro performance to all levels of the craft brewing equipment market, we designed the 3.5 bbl | Ss Brewhouse to share many of the same features as our Pro brewhouses. Such as frame-mounted components, brewer-centric valve tree, grain-out door, milled false bottom, and , the patent-pending internal calandria define this as a truly professional grade brewhouse. The 3.5 bbl size is the sweet spot for a start-up brewery, brewpub, or the perfect pilot system for a larger production brewery.
BLENDING MANIFOLD
We knew the system needed to be compact and flexible, similar to our popular Pro Brewhouses, the 3.5 is designed around an instant hot water heater or auxiliary HLT. The X Pipe H20 manifold has several unique advantages. By integrating the flowmeter in tandem with a solenoid valve, the brewer can dial in a precise strike water volume, and the system will automatically fill the Mash Tun. The top of the X pipe branches out into separate inlets for both the sparge ring and strike water ports.
PATENT PENDING INTERNAL CALANDRIA 2.0
External calandrias are widely used in large scale (50 bbl+) professional brewhouses, and for good reason, a calandria vastly improves the efficiency of a brewhouse by requiring less energy to achieve an effective boil. Our Patent Pending internal calandria takes the essential elements of an external calandria and places them directly in the kettle. The natural convection of the liquid removes the need for the additional complication of a calandria pump. Version 2.0 of our popular internal calandria incorporates sealed magnets into the base of the shell to allow for easy removal and cleaning.
TOUCH CONTROLS & PRO VALVE TREE
A fundamental design element for all of our Pro Brewhouses has always been brewer-centric control. Having all the process-significant valves on a centralized tree allows for quick and accurate adjustments during your brew day. The 3.5 incorporates our reimagined user interface. The new control panel design incorporates touch controllers and the ability to automate some key functions. The result is a brewhouse with a much higher degree of precision than ever before.
MILLED FALSE BOTTOM AND GRAINOUT DOOR
Milling slots into a solid plate of stainless steel is widely considered the most precise way to manufacture a false bottom. For the 3.5, we didn't just stop at a milled false bottom, we also added a professional flush-mount grain-out door for easy removal of spent grain. Nestled beneath the false bottom is an array of 5 wort outlet ports contributing to a balanced runoff, and 3 heating element pro version of a Recirculation Infusion Mash System(RIMS) for more exacting temperature control resulting in clearer wort and increased extraction.
N02 SPRING ASSISTED LIDS & ACCESSORIES
The gas spring assisted lids make getting a paddle into the mash tun easy, while also maintaining the ability to close the lids for better thermal efficiency and storage. The back half of the lids incorporate lights and accessory ports for future upgrades. Stay tuned for more information about add-ons, including a grain mill mount and several other planned accessories.
Please note, this product requires 208v Three Phase Power - 100 amp Dedicated Circuit.
More videos available on our YouTube Channel
| | |
| --- | --- |
| SKU | BH035E2N |
| Brand | Ss Brewtech |
| Shipping Weight | 600.0000kg |
Be The First To Review This Product!
Help other Newera Brewing users shop smarter by writing reviews for products you have purchased.
Others Also Bought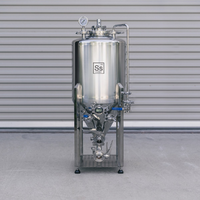 $2,299.00